Father's Day Menu
---
Network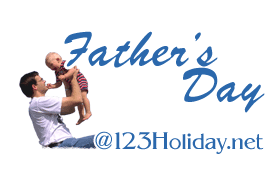 Fathers Day Crafts
Father's Day Gift Certificates
Write the "gift certificates" on small pieces of colored construction paper and place them in spots around the house when dad would be sure to find them.

Some ideas for Father's Day gift certificates could include:

"Wash the Car"
"Rake the Leaves"
"Mow the Lawn"
"Weed the Garden"
"Clean the Gutters"
"Clean the Garage"
"Take out the Garbage"

Use your imagination. You can even include blank cards that dad can fill out himself".
---
Send Flowers & Gift Baskets Online!
---
Homemade Father's Day Cards
Cut out colour pictures of stuff that dad likes (skiing, gardening, boating, etc) from old magazines. Combine them with a special Father's Day poem or silly rhyme. Paste the pictures and the special message on a big piece of colored construction paper. Cut the construction paper in a special shape or decorate it however you'd like.
---
Father's Day Tie
Cut out ties about 8 - 10 inches long out of construction paper. Have the children decorate them with paints. On the back put their names and date and laminate it. Put a piece of elastic through two holes punched into the top on each side.
---
Puzzle Pictures

Materials:
8 x 10 pieces of posterboard
Various old puzzles with missing pieces
5 x 7 pieces of construction paper
Paint
Glue
Directions:

1. Using the paint, have the children make a handprint on the 5 x 7 piece of paper.
2. Glue the handprints onto the posterboard.
3. Let the children glue the puzzle pieces on the poster board, around the handprint to create a frame.



Search the web: